"Independent Foreign Policy is different from Diplomatic ties, don't put words into my mouth" —Pres. Duterte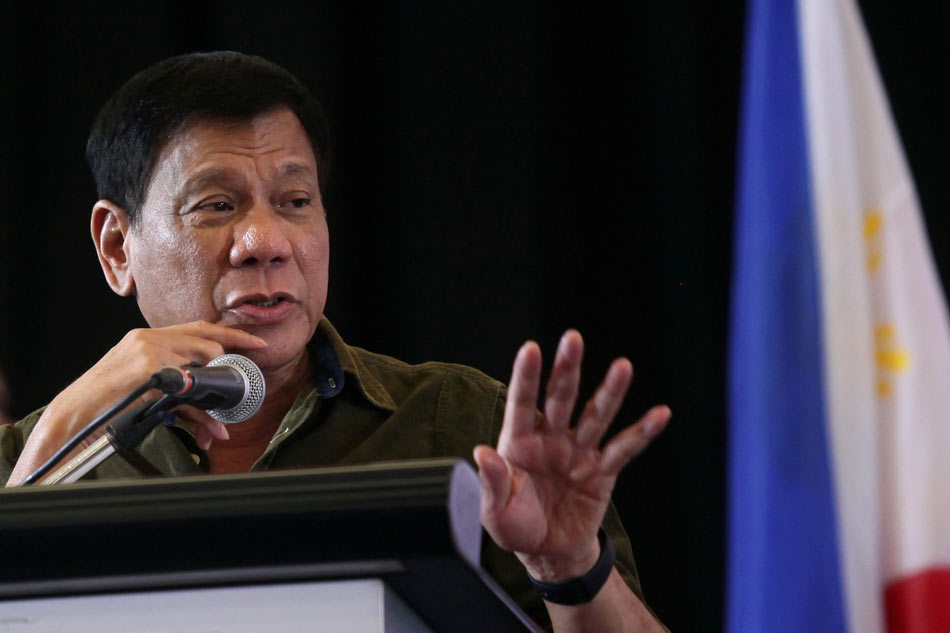 PRESIDENT Rodrigo Duterte on Saturday clarified he would not sever the Philippines' ties with the United States, following an announcement in China that he planned to "separate" from Washington in economic and military terms.
In a news conference in Davao City after his arrival from a state visit to China, Duterte said his declaration of a separation from the US was about pursuing a more independent foreign policy.
"You have to take my words in the context of what I have been saying all along. It's not severance of ties. When you say severance of ties you cut the diplomatic relations. I cannot do that," Duterte told reporters.
He said cutting diplomatic ties with the US would not be according "to the best interest of my country that we maintain that relationship."
"Why? Because there are many Filipinos in the United States," the President added.
Before Chinese businessmen in Beijing on Thursday, Duterte announced a "separation" from the US in military and economic aspects, in favor of China and Russia.
However the President explained early on Saturday that this "separation" only meant charting "another way" in terms of foreign policy.
"Separation of my foreign policy, that it need not dovetail [with]the foreign policy of America. That's what I meant actually … Sever means to cut. Separate is just to chart another way of doing it," he said.
"In the past and until I became President, we always follow what the United States [wants]… We follow. Pasunod-sunod tayo. Hindi ako magsunod [We always followed. I won't follow]," Duterte added.
No plans to visit US
The President indicated that he had no plans to visit the US.
Asked if American companies like business process outsourcing companies should worry about the economic aspect of the "separation," the President said: "I worry that they would not get out of this country, that you have to force them. That is my worry."
On whether or not his "separation" would affect defense agreements with the US like the Enhanced Defense Cooperation Agreement, Duterte said, "Maybe."
"But I would have to consult the military, the police and everybody because at the end of the day, it is all security," he said.
Asked about his hopes to form stronger ties with China and Russia, Duterte said these could take the form of a "military alliance" or an "economic bloc."
Turning point
The visit to China, he said, was "a turning point in our shared history." The President boasted of the financing and business deals forged during his visit to China, valued at $24 billion.
"My state visit to China signalled a turning point in our shared history and showed that both countries are fully capable of working together for mutual beneficial cooperation even as we remain committed to settle disputes peacefully, in full adherence of international law," the President said in his arrival speech.
Beijing and Manila agreed to resume bilateral talks on their West Philippine Sea (South China Sea) dispute, both sides said Friday, insisting that contentious issues were "not the sum total" of their relationship.
Deeper explanation
The US, meanwhile, will leave to its top diplomat for Asia, Daniel Russel, the clarification on President Duterte's declaration of separation.
Russel, the assistant secretary of State for East Asian and Pacific Affairs, arrived in Manila Saturday. He will stay in the country until October 25 for talks with his counterparts, among other activities.
State department spokesman John Kirby said a "deeper explanation" was needed after Duterte said his "separation" comment in Beijing did not mean cutting diplomatic ties with the US.
"I'll let President Duterte speak for his comments. As I said yesterday (Friday), when we heard what he initially said in Beijing, it was confusing and we would be interested in hearing a deeper explanation of what it meant. Now he's said what he said today (Saturday) and we'll see where the conversations go [with Assistant Secretary Russel]," Toner said in a news briefing in Washington.
Chinese Foreign Ministry spokeswoman Hua Chunying said Beijing respects Duterte's foreign policy tack.
"We believe that he will make independent foreign policies and choices with the interests of his country and the people in mind," she said in a news briefing in Beijing on Friday.
She said, however, that no country should hold a "cold-war or zero-sum mentality."
Sources: manilatimes.net