Anti-Marcos group to sue Noynoy Aquino for not legally preventing Marcos burial when he was President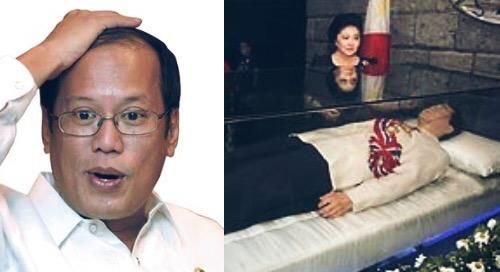 A huge group opposing the administration of the late President Ferdinand Marcos is set to sue former President Benigno "Noynoy" Aquino III. This is after the Supreme Court recently allowed the Marcos burial at the Libingan ng mga Bayani (LNMB). It is known that the Marcoses and the Aquinos are political enemies, even before the Martial Law days.
"Tingin namin, hindi naimpluwensiyahan ni President Duterte ang Supreme Court sa desisyon nila na mailibing si Marcos. Kung meron namang dapat sana umaksyon dati pa, walang iba kundi si dating Pangulong Noynoy. Ang masakit, wala siyang ginawa para pigilan ito." Marcos Hindi Bayani (MHB) President Iluminada Magbanua said in a statement.
(We think that President Duterte did not influence the Supreme Court in their decision to bury Marcos. If there's one person who had the power to prevent it, it's former President Noynoy Aquino. But sad to say, he did not do anything about it.)
Magbanua, also known to her friends as Ka Luming, acknowledged what the law states about burying Marcos at LNMB, adding that neither Duterte nor the SC is to blame for it. However, she emphasized that Noynoy Aquino could have easily ban the Marcos burial during his time, especially right after he appointed Maria Lourdes Sereno as SC Chief Justice in August 2012.
A self-claim Martial Law victim, Magbanua noted that their group has been requesting then-President Aquino to help them fight for justice, but said that only a little help was given to them. She added that that the former president promised them that Marcos burial will never happen, even if his presidential candidate Mar Roxas will lose the election.
As of posting, MHB and other anti-Marcos groups are still insisting that Marcos is not a hero, and that they will continue to protest against SC's decision. Meanwhile, Magbanua said that they are now preparing to file criminal charges against Noynoy Aquino. Their group also plans to include Liberal Party (LP) senators for gross negligence of their duties.
Sources: philippinenews.com