Four subpoenas for De Lima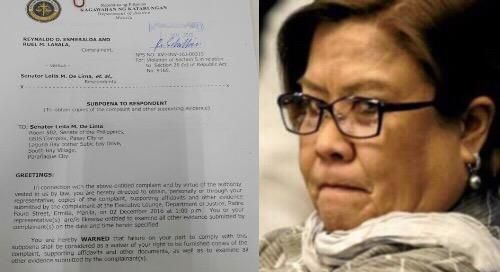 MANILA – Senator Leila De Lima on Monday confirmed the receipt of four subpoenas from the Department of Justice in relation to accusations she violated Republic Act No. 9165, An Act Instituting the Comprehensive Dangerous Drugs Act of 2002.
Among the complainants are the Volunteers Against Crime and Corruption, Reynaldo O. Esmeralda and Ruel M. Lasala; Jaybee Sebastian represented by his wife, Roxanne B. Sebastian and the National Bureau of Investigation.
"We take note that the subpoena orders were not to submit counter-affidavits yet but simply to obtain, personally or through a representative, copies of these complaints and other supporting affidavits and evidence on Dec. 2, 1 p.m., at the Department of Justice's Executive Lounge," de Lima said.
De Lima said her legal team is prepared to secure all these official copies of the complaints and their corresponding evidence, and to file appropriate counter-affidavits at a proper time.
The subpoena directed De Lima to examine all other evidence submitted by the complainants on December 2, 2016.
"You are hereby warned that failure on your part to comply with the subpoena shall be considered as a waiver of your right to be furnished copies of the complaint, supporting affidavits and other documents, as well as to examine all other evidence submitted by the complainant(s)," the document said.
Meanwhile, De Lima also denied the accusation that she is a protector and financier of terrorists, saying "this is not only totally insane but also outrageously ridiculous! It only exposes how this administration could bend so low at digging in the imagined dirt that it fails to see the public laughing at them."
"Like many of you, I too am exhausted and disgusted at this administration's obsession for manufactured lies and malicious conjectures to smear my integrity and damage my name. Sadly, some hapless pawns are more than willing to play in this vicious game of political persecution and character assassination," De Lima said.
But, she added that "what is getting clearer to me and to most good people I know is that the administration's demolition job against its political opponents is sinking to a new low to hide its own incompetence and recklessness to address more pressing national problems."
Sources: interaksyon