Leni Robredo: Hindi matapos ang Yolanda Housing dahil sa proseso ng documentation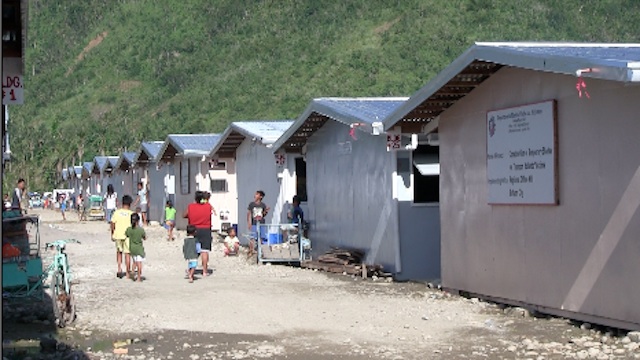 THE National Housing Authority (NHA) recently reported that a total of 12,635 housing units are ready for occupancy and 8,820 more to be completed before the end of 2015 but unfortunately, up to this month of 2016, its still only 10% of the project was finished and according to Leni Robredo it is due to documentation.
And to better respond to the housing needs of the calamity victims, particularly those affected by Typhoon Yolanda, the NHA, with the help of Department of Public Works and Highways, has developed standard disaster-resilient housing designed to withstand typhoons with winds of up to 250 kilometers per hour, said Urban Development Coordinating Council (HUDCC) chair Chito Cruz.
The Government's Resettlement Cluster is being led by the HUDCC, with NHA as its implementing arm tasked to build permanent housing communities for the 205,128 families affected by the typhoon.
With funding requirement of P61.252 billion, the resettlement project, which is under the implementation of NHA, is accordingly in line with the "build back better" principle in response of the aftermath of Typhoon Yolanda in 14 provinces and six regions in the country. Eastern Visayas is the most severely affected region.
WATCH THE VIDEO HERE:
According to the report, as of October 20, 2015, the total fund released for the resettlement site project is P26.996 billion to fund 92,544 housing units. About 17,641 units have been completed.
The NHA indicated that these housing projects are complete with community facilities, water and power lines. A space is likewise allocated for school buildings, tricycle terminals, police outpost, material recovery facility (MRF), health center and a multi-purpose center.
Housing units will have individual septic tanks/vault and have a minimum lot size of 40 square meters, while the row house will measure 22 square meters to follow the resilient housing design.
But some individuals have expressed doubts over the quality of the housing units.
"I survived during Yolanda, but this time, I am not really sure of the qualities in constructing this housing units," one of the supposed beneficiaries in Balangkayan town lamented.
In April 2014, Oxfam, an international humanitarian organization, noted on its briefing paper entitled "The Right Move? Ensuring durable relocation after Typhoon Haiyan" that the government plans have ignored "key elements" of sustainable relocation processes, and lack technical guidance and support.
"The legal rights of thousands of people to be informed and consulted are not being met," the report says.
It added that if the more than 200,000 Yolanda survivors would not be given a chance to voice their needs and take part in the planning, relocation efforts are likely to fail and push survivors deeper into poverty.
Meanwhile, the NHA admitted that it is facing some challenges in implementing the housing component for the Yolanda rehabilitation.
"The lack of available lands in safe zones, legal concerns on titling properties, issuances of permits/clearances, availability of raw materials and inclement weather were the hindering factors we have to face in all 14 provinces," said NHA general manager Sinforoso Pagunsan.
Sources: SunStar, UNTV