Mayor Erap wants to bring back 'Manila's Glory'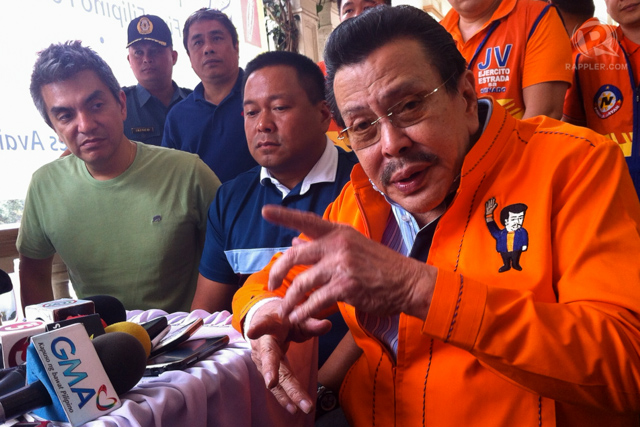 True to his commitment to bring back Manila's long-lost "old glory," Mayor Joseph "Erap" Estrada is set to renovate and beautify two more historic landmarks in the capital city — Plaza Lacson and MacArthur monument in Santa Cruz.
Estrada has tasked the Manila Parks Development Office (MDPO) led by Arsenic Lacson to begin making plans for the two rehabilitation projects.
"Let us work to bring back the old splendor of Manila by restoring these historic landmarks. We owe it to our ancestors and to the future generations to rebuild and restore these sites," the Manila mayor said.
Estrada is in the forefront of the city government's relentless efforts to make Manila, the country's capital city of two million people, clean, orderly and peaceful again.
During the past administrations, Manila has been neglected and became known to be a city of filth and squalor, owing to crammed sidewalks and roadways filled with vendors, chaotic traffic and informal settlers.
"Manila is the Philippines' show window to the world so we will continue our ongoing campaign to do a complete makeover of Manila and transform it into a beautiful city that every Filipino can be proud of," Estrada said.
The renovation of Plaza Lacson and MacArthur Park is part of the Parks Development Program Estrada initiated when he assumed office in 2013.
Plaza Lacson was popularly known by its old name Plaza de Goiti in the early 1900s and was considered the heart of Manila prior to World War II. The Manila tram system had its central terminal at the plaza back then.
MacArthur Park, which features an old monument of Gen. Douglas MacArthur, is located at the south end of MacArthur Bridge that crosses the Pasig River from Padre Burgos Avenue in Ermita and Carlos Palanca Street in Sta. Cruz.
MPDO chief Arsenic Lacson said initial plans for Plaza Lacson call for its major development and cleanup since it has been dirtied by street dwellers and undisciplined passersby in the past years.
"Lalagyan natin ng enclosure, mga puno, tapos pagagandahin natin," he said.
As for the MacArthur Park, Lacson said this would be spruced up thoroughly.
Moreover, he said the city government is also closely working with the Department of Public Works and Highways (DPWH) for the rehabilitation of Plaza Dilao in Paco and Plaza Azul in Quirino Avenue, Pandacan that were affected by the ongoing construction of Skyway 3.
"DPWH has pledged to make the designs that will be approved by Mayor Estrada, then they will help us in its reconstruction," Lacson explained.
The funds for the renovation of Plaza Dilao and Plaza Azul, he said, will come from the Skyway 3 project.
Similar rehabilitation plans are also being eyed for Plaza Lawton (now Liwasang Bonifacio) and Plaza Rajah Sulayman in Malate, Lacson added.
Urban renewal is one of Estrada's priority programs upon assuming office in 2013. He has allocated P100 million for the rehabilitation of historic parks and monuments that have been part of the city's historical and cultural heritage.
Once known as the "Pearl of the Orient," Manila has 48 parks and monuments, all that remained of the old Manila's pre-war and colonial architecture. A number of these have been converted to children's playgrounds.
Among the parks and plazas that underwent major facelift as per Estrada's directive are Plaza Rueda and Bonifacio Shrine along Taft Avenue, Plaza Hernandez in Tondo, Plaza de Virge in Pandacan, Plaza Hugo in Sta. Ana and Plaza Guerrero across the US Embassy, among others.
Recently, MPDO has inaugurated the newly renovated Plaza Oliva Salamanca at Taft Avenue in Ermita, which was named after Dr. Olivia Salamanca, one of the country's first female doctors. She died in 1913 at the age of 24.


Sources: The Daily Tribune News